OSC Policies, Waivers and Code of Conducts
Helmet Policy
Reference: From Skate Canada Web Site
Effective Date: July 25, 2017
Revised Date: October 1, 2018
General
All Skate Canada member clubs and skating schools who offer a CanSkate program must ensure all CanSkate and Adult CanSkate participants up to and including Stage 5 must wear a CSA approved hockey helmet while on the ice.
This policy also applies to all other Skate Canada programs, therefore anyone who lacks good control/balance when skating forward, backward and has difficulty stopping, as well as maneuvering around obstacles on the ice must wear a CSA approved hockey helmet.
Clubs and skating schools must ensure this policy is enforced during all skating activities including competitions, carnival days or any other special on ice activities throughout the season for this level of skater.
This policy is a minimum standard. Sections, at their discretion, may impose a higher standard which all clubs and skating schools within the sections' boundaries must adopt and implement.
Helmet Use During a Competition or Test Day
A skater beyond a CanSkate Stage 5 level who chooses to wear a CSA approved hockey helmet during a competition or test day will not be subjected to any deductions in relation to the use of a CSA approved hockey helmet.
For further information on this subject please visit Skate Canada Helmet Information
---
Cancellation and Refund Policy
ALL REFUNDS ARE SUBJECT TO AN ADMINISTRATION FEE OF $25
Withdrawing from a program prior to the start of the program
Notice for withdrawing from a program must be made in writing prior to the start of the program. Refunds will be made less the Skate Canada registration fee and a $25 administration fee.
Withdrawing from a program during the first month of skating
Notice for withdrawing from a program must be made in writing prior to the end of the first month of skating. Refunds will be pro-rated less the Skate Canada registration fee and a $25 administration fee.
Withdrawing from a program after the first month of skating
Notice for withdrawing from a program must be made in writing and include a physician's medical note. Refunds will be pro-rated less the Skate Canada registration fee and a $25 administration fee. The refund will take effect from the date of the physician's note.
Spring and Summer program
A refund will only be given during these programs with a physician's medical note and will be subject to the $25 administration fee.
Please allow four weeks for receipt of all eligible refunds.
---
Privacy Policy
We respect your privacy and are committed to maintaining your confidence and trust. Accordingly we maintain the following privacy policy to protect personal information you provide online. This policy applies to your use of the Okotoks Skating Club website and any other site that we may own or operate currently or in the future. If you have any Okotoks Skating Club questions or concerns about our privacy policy, please send an e-mail.
Personal Identification Information
We may request personal identification information from you in connection with your use of, or participation in, membership registration for Okotoks Skating Club, our contests, games, surveys, forums, subscription registrations, content submissions, chats, bulletin boards, discussion groups, requests for suggestions, and in connection with other activities, services or resources we make available on any of our sites. In all of these cases, we will collect personal identification information from you only if you voluntarily submit such information to us. We will never intentionally disclose any personal identification information about you as an individual user (such as, for example, your full name, street address, telephone number, credit card number or e-mail address) to any third party without having received your permission. If you do provide us with personal information for any of these activities, we may use it to conduct the activity. We may also use cookie technology (discussed in detail below) to improve your experience of these activities, including remembering your preferences, customizing the content and advertisements that you see or authenticate your access to your personal information. In addition, in the event you're personally identifiable information is requested as part of our surveys or polls, such personally identifiable information may be added to your registration information).
Okotoks Skating Club does not sell, rent or lease its member lists to third parties. Okotoks Skating Club may, from time to time, contact you on behalf of external business partners about a particular offering that may be of interest to you. In those cases, your unique personally identifiable information (e-mail, name, address, telephone number) is not transferred to the third party. Okotoks Skating Club may however share data with trusted partners such as for example help us perform statistical analysis. In such a case, we request that the partner limit the use of your personal information to the provision of the services to Okotoks Skating Club and we request that they maintain the confidentiality of your information.
We have the following exceptions regarding the disclosure of your personal information: we will disclose your personal information, without notice, (a) to comply with any valid legal inquiry, order or process served on Okotoks Skating Club or the site; (b) to protect and defend the rights or property of Okotoks Skating Club; (c) to protect the personal safety of users of Okotoks Skating Club, or the public; and (d) to submit your personal identification information electronically to link Okotoks Skating Club's database to Skate Canada's database. We may also transfer user information, including personally identifiable information, to a successor corporate entity in connection with a corporate merger, consolidation, sale of assets or corporate division or other fundamental corporate change.
Access To/Correction of Information
If you would like to review any personal information we have retained about you, please send us an e-mail request for this information. To help us address your request, please specify which information you wish to review. Once you have reviewed this information, at your request we will correct personal information about you that you state is erroneous. To request such a correction, please send an e-mail. You should be aware, however, that it is not always possible to completely remove or modify information in our databases and servers although we will always make reasonable efforts to do so upon your request.
---
Publicity Waiver
We hereby acknowledge and consent to the fact that in the event that events may be recorded and/or televised either in whole or in part for showing on a world-wide basis. The undersigned athlete hereby consents to the use of his or her performances, name, biography and likeness on or in connection with any television or radio program, video/DVD, web streaming, web archiving, print media or the advertising and publicizing of such program as may be designated by The Okotoks Skating Club or Skate Canada and waives all rights to remuneration or otherwise in connection with the above.
The foregoing is subject to assurance that the eligible status of the athlete will be fully protected by Skate Canada.
---
Medical / Injury Liability Waiver
I the registrant to any Okotoks Skating Club Program admit knowingly and willingly that I have voluntarily enrolled in the programs/events that includes, but is not limited to, all on-ice and off-ice activities as described in the official event announcements. I am in good health, without injury or illness, and have not been told by any doctor that I may not participate in any physical activity.
In consideration of my fees paid for entry to any program and of my own free will, I do hereby for myself and my heirs, executors, and administrators, waive, release, and give up any and all claims, demands, liability, damages, costs and expenses of any kind whatsoever (including personal injury to me or my wrongful death) against The Okotoks Skating Club and Skate Canada and its instructors, volunteers, employees, agents and any other persons involved in the event, that may arise from my participation in the event or while traveling to and from the event, even if caused in whole or in part by the negligence or other fault of the aforementioned parties or persons. I am aware of and fully understand the inherent and significant risks associated with my participation in the event. I fully understand that I may injure myself as a result of my participation in the events and hereby release The Okotoks Skating Club and Skate Canada and its instructors, volunteers, employees, agents and any other persons involved in the events from any liability, now or in the future, including but not limited to all physical, mental or emotional illnesses or injuries, however caused, occurring during or after my participation in the event. I agree that all my participation in the event, as well as travel to and from the event shall be at my own risk.
I fully understand that I am forever giving up, in advance, any right to sue or make claims against the parties that I am releasing, if I suffer any injuries or damages, even though I do not know what or how extensive those injuries and damages might be and am voluntarily assuming the risk of such injuries or damages.
---
Skater's Code of Conduct
Skating is a competitive and individualized sport, which requires safe and courteous behaviour from all participants, on and off the ice.
Skaters need to be aware of one another and react predictably to ensure their own and others' safety.
Each skater is responsible for being aware of and practicing the rules of etiquette and safety noted below.
All Skaters registered for sessions at the Okotoks Skating Club are expected to exhibit the following behaviours at all times while training at practice sessions, and while representing our Club at Competitions.
Right of Way:
1st Priority - Skater Skating Program with Music
2nd Priority - Skater in Lesson
3rd Priority - Skater in a Jump or Spin Entrance
4th Priority – Coaches
Skaters' Roles and Responsibilities:
All OSC Members must abide by COVID-19 procedures in place.
Skaters are expected to be at their session on time, or have provided by email their absence or late to Coach.
Skaters are expected to get up promptly after a fall, (unless really hurt) in order to keep the pathways clear for other skaters.
The ice surface should be used for training, not conversation. Social Distancing is an expectation.
When practicing routines, skaters must learn to maneuver around other skaters and still complete jumps, spins and footwork successfully.
A polite "excuse me", or "heads up" will facilitate ice usage without frustration for all skaters.
Foul language, eye rolling, slamming of objects, abusive or aggressive behaviour, including bullying and kicking holes in the ice is prohibited.
Skaters must complete each training session with a presentation stroke, give thanks, and clear the ice promptly
Dress Code - No Jeans and No Cleavage showing, proper skating attire should be worn, Hair Up and tidy.
Common Courtesy is a must. Always be respectful to other Skaters, Parents, Coaches, Guests, and Staff.
General Ice Etiquette:
Food and drink are not permitted on the ice. Water bottles are acceptable but must be left at the boards. (Social Distanced) Glass bottles are prohibited.
Due to Skate Canada Insurance policies, only registered Skate Canada members are permitted on the ice, except in a medical emergency.
The doors along the rink-side must be kept closed while a session is in progress to ensure the safety of the skaters on the ice.


Successful Training Sessions:
Come to the session with your training book, plan, mindset of how to complete the session reaching your goals.
Keep Moving. A skating session is more productive and has greater energy when we are all skating. If you must consider your next training skill, skate a lap to consider it. Don't stand in the middle of the rink or along side the boards.
Only brief water re-hydration breaks and logging in training books are acceptable stop breaks for skaters.
If a skater must leave the ice early, or have a washroom break, please get permission from an OSC coach.

Disciplinary Action:
First Offence - Verbal warning from OSC Coach or Board member, parent informed of warning. A copy of the OSC Athlete Code of Conduct will be given to the skater to review again.
Second Offence - Letter of warning from President to Skater stating the areas of conduct that are undesirable to the Okotoks Skating Club.
Third Offence Dispute Resolution Meeting of all people concerned. Letter of apology issued to offended party.
Fourth Offence - Temporary suspension from Club Ice Sessions and Events (Test days and Competitions).
---
Parent's Code of Conduct
Skate Canada is committed to ensuring that all skaters have the opportunity to participate in a safe and welcoming environment that is encouraging and promotes their overall development. Parents have an enormous influence on skaters' experiences in the sport. The quality of a skater's experience is determined by their relationships with parents and the manner in which parents conduct themselves in the Skate Canada environment.
In this code "parents" shall refer to "parents and guardians". This code applies to all parents who are members of Skate Canada or have children who are members of Skate Canada. Parents shall abide by this code at all times while participating in any Skate Canada club or school, competition, or activity.
Parents shall always model positive and responsible behaviour and communicate with their son/daughter that they expect them to do the same.
Parents will assume the major responsibility for their son/daughter's on ice conduct and attitude.
Parents shall at all times treat all individuals and property with dignity, courtesy and respect, including but not limited to skaters, coaches, officials, volunteers, other parents, and all other individuals that are part of the club, skating school, Section or Skate Canada.
Parents shall refrain from any behaviour, or comments, which are profane, insulting, harassing, sexist, racist, abusive, disrespectful or otherwise offensive without hostility or violence.
Parents shall emphasize the importance of values like sportsmanship, respect, cooperation, competition and teamwork to their son/daughter offering competing fairly, participation and skill development.
Parents shall model and encourage their son/daughter to maintain a healthy balance between skating and life. (i.e., school, other activities, social life, etc.)
Parents shall model and encourage balanced, healthy food choices and subscribing to an active and healthy lifestyle.
Parents shall set high, but reasonable expectations for their son/daughter's participation in skating focusing on development and enjoyment for the child.
Parents shall instil confidence in their son/daughter's ability and skill development, always avoiding comparisons with other skaters.
Parents shall celebrate the acquisition of skills and goals achieved by their son/daughter.
Parents, along with the professional coach and the athlete, shall be considered members of a team whose main concern is the child's overall progress and development. Parents shall respect that the professional coach is responsible and empowered for the on-ice and off-ice development of the athlete. A parent's role shall be to take a healthy interest in their child's progress and development and be responsible for the child's nutrition, rest, adherence to off-ice training regimen set by the coach or other fitness professional, overall health, life -balance, and moral and emotional support.
Parents shall ensure their son/daughter wears proper skating clothing and equipment.
Parents shall never provide alcohol or drugs to minors in a Skate Canada environment.
Parents shall never provide or advocate the use of performance enhancing drugs or substances.
Parents shall avoid any conduct, which brings their club, skating school, Section or Skate Canada, into disrepute, including but not limited to abusive use of alcohol, non-medical use of drugs and gambling.
Parents shall openly support and uphold this code of conduct policy and take action and steps to ensure other parents follow and uphold this code of conduct policy.
Parents shall adhere to the policies, procedures, rules, standards, and ethics of Skate Canada at all times.
---
Volunteers are essential to the operation of the Okotoks Skating Club. The combined efforts of our members ensure proper facilitation of events and activities. Hundreds of hours go into running our club and each family is expected to volunteer their time. Our skating season runs from September 1st to March 30th, providing many opportunities to receive your volunteer requirements. Post-dated commitment guarantee items of $200 per family will be added to the member registration invoice at the time of registration. These items will become due on April 15th. This invoice will be voided before the due date if all required commitments for volunteering have been met. Families that do not meet requirements will be charged the $200 fee.
During the skating season, each family will have many opportunities to fulfill their credit requirements. Such opportunities include:
Ice Supervision
Dress Sales
Apparel Sizing/Fitting
Test Days
Competitions
Casino
Gala
Bulletin Board Maintenance
AGM/Banquet
There are many, many families that contribute far more than the minimum and OSC is grateful for their generous contribution. It is your efforts that make our programs and events great for our kids!
The volunteer requirement for 2020/2021 is 10 credits per family
2019/2020 Major Events for Volunteering
| | | | |
| --- | --- | --- | --- |
| Event | Dates | Location | Available Credits / Shift |
| Skate Alberta Sectionals - TBD | October 29 - November 1, 2020 | 7 Chiefs Sportsplex | 2 - 5 Credits |
| Gala - TBD | TBD | Pason Centennial Arena | TBD |
---
Competition Fees (CompetitiveSkate ONLY)
For skaters who are in CompetitiveSkate, Okotoks Skating Club will reimburse the skater for entry fees for Alberta Winter Games, Canada Winter Games, Sectionals, Skate Canada Challenge Competitions, Canadian Championships, Skate Canada Junior Development Team, and Skate Canada Select Team. Proof of registration and attendance must be supplied by the skater. Requests for reimbursements must be submitted no later than 30 days after the event. The skater must be in good standing with OSC at the time of submission. Requests which are denied cannot be re-submitted.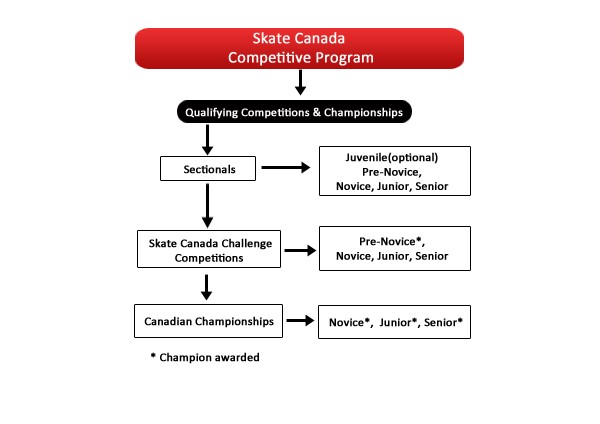 ---
Pick-Up Ice
Pick-up ice is for skaters to add an ice time without purchasing the entire season. A coach may request a skater pick-up ice for the purpose of prepping for competition, test days or upcoming events.
Rules for Pick-Up Ice
Pick up ice is NON-REFUNDABLE and NON-TRANSFERABLE and cannot be used for any other session other than indicated at check-out.

Members are to seek permission from their coach and approval given before purchasing.

Skaters may only pick-up ice on sessions on which they are qualified.

Pick-up ice will be granted on a first come, first serve basis.

Pick up ice MUST be paid for in advance of the session start time.

Out of club skaters or coaches must have permission from the OSC Head Coach before purchasing or skating on OSC ice.
---