CanSkate
CanSkate is a dynamic learn-to-skate program that focuses on fun, participation and basic skill development. Based on Sport Canada's long-term athlete development (LTAD) principles, CanSkate centers on physical literacy and the fundamental skills needed to take part in any ice sport or to skate as a recreational activity.
CanSkate is for skaters of all ages, as well as for those wishing to improve their basic skills whether their focus is for figure skating, hockey, speed skating or just skating for fun. CanSkate is taught by NCCP-trained professional coaches, assisted by trained program assistants. We recommend CanSkate for ages 5 and up.
CanSkate is action, movement, and fun! Lessons are given in a group format with a coach-to-student ratio of a maximum 1:10. Skaters progress at their own rate and coaches make sessions active using teaching aids, upbeat music and a wide variety of activities that create a motivational environment and promote learning. Badges, ribbons and other incentives are used to benchmark skaters' progress and reward effort and participation.
Equipment required – skates, mittens or gloves, and CSA approved hockey helmet.
We DO NOT recommend the "adjustable or expandable" skates like those pictured below: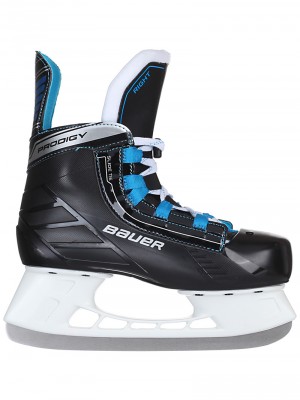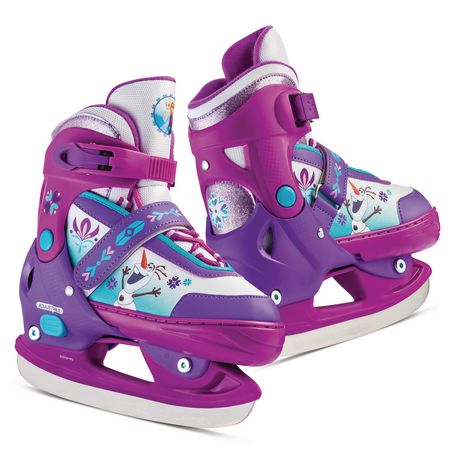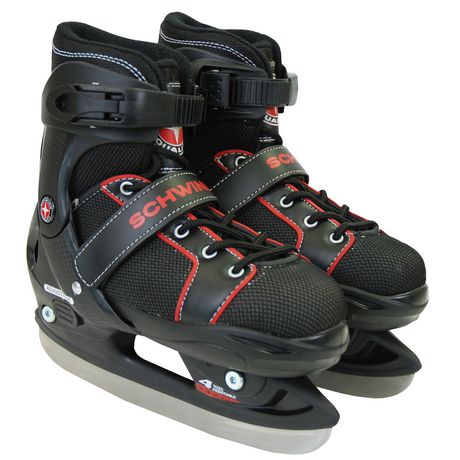 2020 - 2021 Schedule and New Policies for CanSkate this Season
All Skate Canada Guidelines and Skate Canada: Alberta-NWT/Nunavut Protocols must be met for all CanSkate sessions during COVID-19
All skaters will be required to perform a mandatory Health Screening prior to attending the facility. Any skaters showing symptoms of Covid-19 will not be allowed in the facility
All coaches and program assistants must wear a non-medical mask and gloves (non medical) at all times
Current regulations do not allow for spectators in the facility. One parent will be allowed in to aid child getting on the ice before the session and off the ice after the session.
Program Assistants and Coaches will be unable to aid in putting on / taking off skates
3 metres is current requirement for physical distancing must be maintained with skates on/off in the facility
Masks are required inside the facility except when on the ice
Educate skaters to use physical distancing protocols when passing skaters
Skaters must not have shared contact of any teaching aid or prop
Minimum age for Canskate is 5 years old
Skater must be able to get up on their skates independently to participate this season
All sessions are at the Pason Centennial Arena - 204 Community Way Okotoks.
Due to orientation requirements all registration will close May 3rd.
| | | | | |
| --- | --- | --- | --- | --- |
| Day | Time | Session | No Skating | Cost |
| Tuesday | 6:00 - 6:45 pm | May 4 - June 1 | | $100 |
| Thursday | 6:00 - 6:45 pm | May 6 - June 3 | | $100 |
Discounts available - purchase both days for $180
Additional Fees
Skate Canada membership fee of $44.00 (non-refundable and non-transferrable)
Membership year - September 1 - August 31
When you/your child registers for a skating program at our club, you also become a member of Skate Canada, the national sport governing body for figure skating in Canada. There are many advantages that go with a Skate Canada membership such as accident insurance, access to Skate Canada programs and materials, the opportunity to participate in interclub and invitational competitions and special member prices on merchandise from the on-line store.