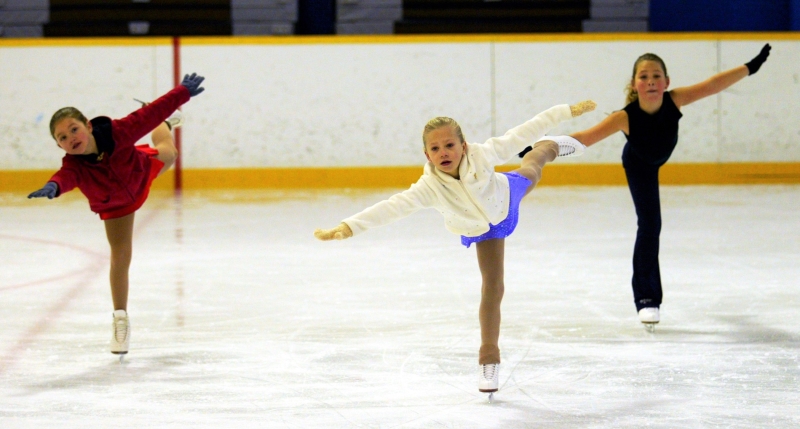 STAR 1-5 Program
STARSkate offers opportunities for skaters of all ages to develop fundamental figure skating skills in the areas of ice dance, skating skills, free skate and interpretive skating. Unique in Canada, this program teaches figure skating skills in a group and/or private lesson format in a progressive and sequential manner and includes specifically designed awards and incentives. Skaters have the opportunity to take Skate Canada Tests through a nationally standardized testing system. Skaters who have mastered figure skating skills in STARSkate may also choose to pursue synchronized skating or pairs skating.
The STAR 1-5 program will introduce skaters to the sport of figure skating and its disciplines:
Freeskate, Skills, Dance and Synchronized Skating (optional)
Main Focus of Each Discipline
Skills
The main focus in the STAR 1-5 Skills discipline will be the development of edge and turn technique using "figure form".
- Narrow Stance
- Arms close to the body
- Free foot held close to skating leg
- Highlights balance point on blade
- Requires solid control fro balance, flow (strong core)
- focus on edge quality vs. presentation
Stroking exercises will also be introduced to enhance power and rhythm. Skaters will also be introduced to a variety of field moves to help develop balance, flexibility and strength.
Dance
The dance development at this level will focus on the execution and comprehension of dance technique with skaters learning the dance steps before the dance patterns. Skaters will be encouraged to master timing and pattern execution before introducing partnering technique by using "shadowing" for their assessments.
Shadow dance is the term used when a skater skates the full pattern of the dance with another skater, coach or PA using a "shadow" formation.
Freeskate
STAR 1-5 freeskate development will concentrate on jump and spin technique, along with the development of programs using program components as the focus.
The assessment criteria will follow the same guidelines as the criteria used in events at the STAR 1-5 level and higher to bring awareness to technical requirements of our sport.
Example: Basic Spin Position Definitions
The STAR 1 - 5 testing will take place during regularly scheduled ice times and be assessed by your skater's coaches.
Why Coach Assessed Tests?
Assessment in the STAR 1 -5 program will be performed by the coach who is teaching the skater the discipline that is being assessed. There are many reasons why coaches will be assessing their skaters:
- Clears the pathway for development by removing time and logistic barriers. Skaters will have access to assessment opportunities as they are ready and their development progresses. Without the demands of readiness following a pre-set test day calendar, the skaters are free to move through the program at their own rate without obstacles. STAR 1-4 assessments are designed to be available to the skaters on their regular session and during their normal time slot, thus allowing the assessments to be convenient and free of additional ice or travel costs.
- Opens up equal opportunity to all skaters regardless of location in Canada. Being able to use the club coach to perform assessments enables all skaters in every region of Canada to have the opportunity to be assessed when ready. This eliminates the geographical advantage or disadvantage due toavailability of officials. During the "Learn to Train" stage of development, the ability to move through the program when ready is a critical component of maximizing skill progression in this "golden age of learning".
- Allows coaches to be 100% accountable for skater development. Coaches will have total command over skater development from CanSkate to double jumps. This opportunity is advantageous in ensuring skater development quality is consistently monitored, nurtured and encouraged.
- Costs to the skater is reduced. The STAR 1-4 assessments can be taken at any time during the year on the session they are skating. STAR 5 assessments for the pattern dances and freeskate programs, must be skated on clear ice. This can be done on a session that has been cleared (Freeskate program or dance pattern), or can be scheduled on a separate session.
For the level:
- Every skater will go through early, moderate and advanced stages of development for each skill and area of technique. The STAR 1-5 program allows skaters to be rewarded for being on the pathway of development at each stage. A STAR 1 skater will be at the early stages of development in all areas, therefore the assessment standards will reflect an "early stage" performance. The new assessment standards will reflect a satisfactory or good performance "for the level" regardless of the stage of development
STAR 1- 5 Content Format
SKILLS

FREESKATE

DANCE

STAR 1

Edges, Turns, Field Move, Stroking

Elements

STAR 1: Elements

STAR 2

Edges, Turns

Elements

Program: STAR 2 Event requirements

STAR 2a: Dutch Waltz

STAR 2b: Canasta Tango

STAR 3

Field Move, Stroking

Elements

Program: STAR 3 Event requirements

STAR 3a: Baby Blues

STAR 3b: Elements

STAR 4

Edges, Turns

Elements

Program: STAR 4 Event requirements

STAR 4a: Swing Dance

STAR 4b: Fiesta Tango

STAR 5

Field Move, Stroking

Elements

Program: STAR 5 event requirements

STAR 5a: Willow Waltz
(M & F)

STAR 5b: Elements

5 assessments

5 assessments

4 assessments

9 assessments

Total of 23 assessments

(spanning LEARN TO TRAIN: Stage 6 to double jumps)
In all areas of development, skaters will be introduced to simple and then more difficult concepts throughout their progression. Many elements will be repeated to allow coaches to introduce technique, develop the technique and finally master the technique needed for solid development.
Overview STAR 1-5 Test Content

SKILLS

FREESKATE

DANCE

Elements

Elements

Program

Elements/Pattern Dance

STAR 1

Fwd edges

Fwd 3-turns

FI-MoH turn sequence

STAR 1 stroking (basic)

Fwd spiral circles

Choice of Field Move:

(Fwd 1 ft sit glide, inside spread eagle or Ina Bauer)

Waltz jump

Single salchow

Single toe loop

Fwd upright spin

Bwd upright spin

No program

Fwd progressives

Fwd chasses

Fwd swing rolls

Fwd slide chasses

Fwd outside cross rolls

STAR 2

Bwd edges

Bwd 3 turns

Fwd circle on circle

2ft to 1 foot multi turns

FO turn sequence

Single salchow

Single loop

Single flip

Waltz/toe loop combo

Fwd sit spin

Change foot upright spin

Fwd camel spin

STAR 2 Program

STAR 2a: Dutch Waltz

STAR 2b: Canasta Tango

STAR 3

STAR 3 stroking (power)

Fwd spiral circles

Choice of Field Move:

(Bwd 1 ft sit glide, spread eagle, Y-spiral or Ina Bauer)

Single flip

Single lutz

Single loop/loop combination

Bwd upright spin

Bwd sit spin

Fwd camel/sit spin

STAR 3 Program

STAR 3a: Baby Blues

STAR 3b:

Bwd progressives

Bwd chasses

Bwd swing rolls

Fwd inside open mohawk

x-roll/x-behind

Fwd 3-turn/BO edge

STAR 4

Fwd brackets

Bwd brackets

Fwd double threes

Bwd circle on circle

Fwd change of edge

Single lutz jump

Single axel

Single flip/toe loop combo

Single loop/loop combo

Bwd camel spin

Change foot sit spin

Flying camel or sit spin

Fwd combination spin (change of foot optional)

STAR 4 Program

*MUST attempt axel

STAR 4a: Swing Dance

STAR 4b: Fiesta Tango

STAR 5

STAR 5 Stroking 1

(quick edges)

STAR 5 Stroking 2

(bwd slalom)

Spiral Sequence

Single axel

Any double jump (2S – 2Lz)

Single lutz/Toe Loop combo

Spin in 1 position with any variation

Sit or camel spin (entry optional)

Combination spin (change of foot optional)

STAR 5 Program

*MUST land axel at < or better

STAR 5a: Willow Waltz

(M & F)

STAR 5b:

LFO open Mohawk

Double knee bend

Fwd progressive/swing roll

Bwd progressive/swing roll

Tenfox progressive

LFO x-behind chasse

Bwd rolls

Fwd x-roll/3-turn

Fwd x-rolls