STAR 1-5 Testing
STARSkate offers opportunities for skaters of all ages to develop fundamental figure skating skills in the areas of ice dance, skating skills, free skate and interpretive skating. Unique in Canada, this program teaches figure skating skills in a group and/or private lesson format in a progressive and sequential manner and includes specifically designed awards and incentives. Skaters have the opportunity to take Skate Canada Tests through a nationally standardized testing system. Skaters who have mastered figure skating skills in STARSkate may also choose to pursue synchronized skating or pairs skating.
The STAR 1-5 program will introduce skaters to the sport of figure skating and its disciplines:
Freeskate

Skills

Dance

Synchronized Skating (optional)
The STAR 1 - 5 testing will take place during regularly scheduled ice times and be assessed by your skater's coaches.
Why Coach Assessed Tests?
Assessment in the STAR 1 -5 program will be performed by the coach who is teaching the skater the discipline that is being assessed. There are many reasons why coaches will be assessing their skaters:
- Clears the pathway for development by removing time and logistic barriers. Skaters will have access to assessment opportunities as they are ready and their development progresses. Without the demands of readiness following a pre-set test day calendar, the skaters are free to move through the program at their own rate without obstacles. STAR 1-4 assessments are designed to be available to the skaters on their regular session and during their normal time slot, thus allowing the assessments to be convenient and free of additional ice or travel costs.
- Opens up equal opportunity to all skaters regardless of location in Canada. Being able to use the club coach to perform assessments enables all skaters in every region of Canada to have the opportunity to be assessed when ready. This eliminates the geographical advantage or disadvantage due toavailability of officials. During the "Learn to Train" stage of development, the ability to move through the program when ready is a critical component of maximizing skill progression in this "golden age of learning".
- Allows coaches to be 100% accountable for skater development. Coaches will have total command over skater development from CanSkate to double jumps. This opportunity is advantageous in ensuring skater development quality is consistently monitored, nurtured and encouraged.
- Costs to the skater is reduced. The STAR 1-4 assessments can be taken at any time during the year on the session they are skating. STAR 5 assessments for the pattern dances and freeskate programs, must be skated on clear ice. This can be done on a session that has been cleared (Freeskate program or dance pattern), or can be scheduled on a separate session.
STAR 1- 5 Content Format
In all areas of development, skaters will be introduced to simple and then more difficult concepts throughout their progression. Many elements will be repeated to allow coaches to introduce technique, develop the technique and finally master the technique needed for solid development.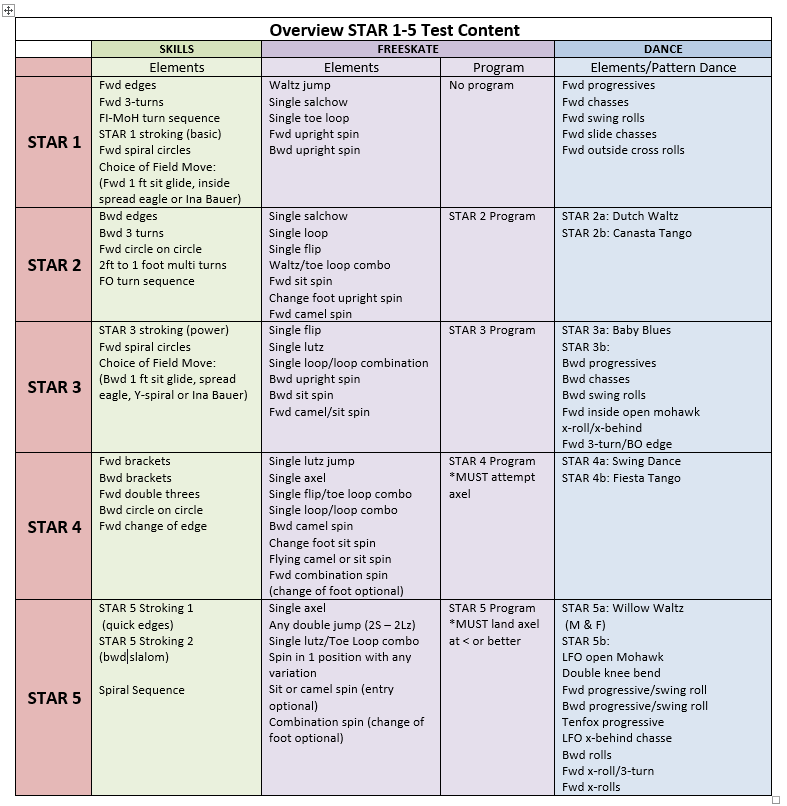 Each child will progress at his/her own pace, and will have immediate access to assessment when ready for advancement. Coaches will notify you of the upcoming session on which your skater will be assessed. Skaters will be assessed on their regular scheduled session time. The only exception to this may be some STAR 5 assessments that require clear ice. Your skater's coach will provide you with the appropriate dates and times if the assessment requires "clear ice".
Test Days
Hair should be neat; it is best to tie it back or put it up. This helps the coach to assess your posture as well as present a tidy appearance. Ensure that your skates and laces are clean and tidy. Coaches will inform the skater of the appropriate attire required for each assessment.
Gloves and jackets may be worn for warm-up, but should be removed for the assessment (if temperature provides).

Each skater will get time to warm up prior to their assessment. Skaters will need to obtain an overall rating of Silver or better to be successful on the assessment. Once the coach has completed his/her evaluation, the result will be given to the skater and be recorded by the club for submission to Skate Canada.

Test Day Fees
The Skate Canada fee for all STAR assessments is $12.50. The assessment fee must be paid prior to the skater being assessed.
There will also be a cost from your coach for assessments. This charge will show up on your monthly coaching bill.