Clinic / Seminar Registration
---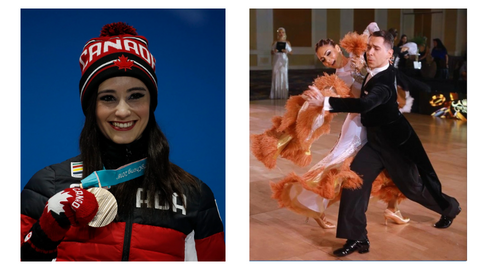 Kaetlyn Osmond & Hermione Green Seminar
Okotoks Rec Centre - Piper Arena & Community Room
Sunday, October 9th, 2022
Starting at 7:00am - 12:00pm (schedules for each group is below)
Kaetlyn is the 2018 World Champion and one of Canada's most successful female skaters. A three-time Canadian national champion, Kaetlyn competed internationally at the senior level, winning three Olympic medals and two World Championship medals including Gold in 2018.
Kaetlyn will work with our skaters on stroking, edges, spins and jumps, and body movement.
Hermione Green is an International Professional Ballroom Dancer and Teacher. She is located in Calgary, but travels throughout Canada, the US and internationally to compete with her partner, Woodrow. They are currently ranked 3rd in Canada.
Hermione will share with us her love and knowledge of ballroom dancing in the off-ice training portion of the seminar.
*Registration is currently open to OSC Skaters only. If your skater is already registered to skate on a Sunday session, you are welcome to register below, however all Sunday skaters will be automatically registered through the Registrar. A confirmation of registration will be sent no later than Sept 20th*
REGISTRATION DEADLINE: SUNDAY, OCTOBER 2ND, 2022
---
Registration
STARSKATE LEVEL
COST
REGISTER

Academy

Free

Junior

Free

Intermediate

Free

Senior

Free
---
Here are some details and tips about this event that you need to know:
1) BE ON TIME OR EARLY! We expect all skaters to be punctual this day. It shows respect to our instructor/coaches when skaters are on time, dressed appropriately and ready to go. This means hair up and out of their face! Make sure they are dressed in some layers and have extra mitts. They will also need runners for the off-ice portion (please no boots for ballroom).
2) Parents and family are welcome to watch from the stands during the seminar, however please keep your voices to a whisper. During the off ice portion with Hermione, there will be no spectators allowed in the community room. The space is too small to accommodate spectators as well.
3) You are invited to take a quick picture or get a signature from Kaetlyn after the clinic (12:15-12:45 in the community room). Please be mindful of time as it's a short period of time she is available for.
4) We will have a few volunteers taking photos throughout the day as well as some group shots.
5) Please pack snacks for your skater as they will have a few really short breaks to fuel up.
---
Event Schedules
---